Unfortunately, the wheel of time stops for no one and sooner or later some grey whiskers will appear in your beard. Beard dyes can quickly fix this problem and give you a youthful and fresh look again, at least in terms of your beard. To ensure that the dyeing of your beard takes place without any problems, we explain everything you need to know in our comprehensive guide.
Quick Overview: Best Beard Dyes
| | | | |
| --- | --- | --- | --- |
| | Our Pick | Best Value | Budget |
| | | | |
| | | | |
| Manufacturer | RefectoCil | Godefroy | Just For Men |
| Color selection | Blue Black, Graphite, Natural Brown, Deep Black | Medium Brown, Light Brown, Dark Brown, Natural Black | 11 shades |
| Contents | Beard Dye, Liquid Oxidant, Mixing Brush, Mixing Dish | Beard Dye, Liquid Oxidant, Mixing Brush, Mixing Dish | Beard Dye, Liquid Oxidant, Mixing Brush, Mixing Dish |
| Amount | 0.5 oz | 3.2 oz | 7.2 oz |
| Price | € € | € € | € |
| | | | |
Why dye your beard?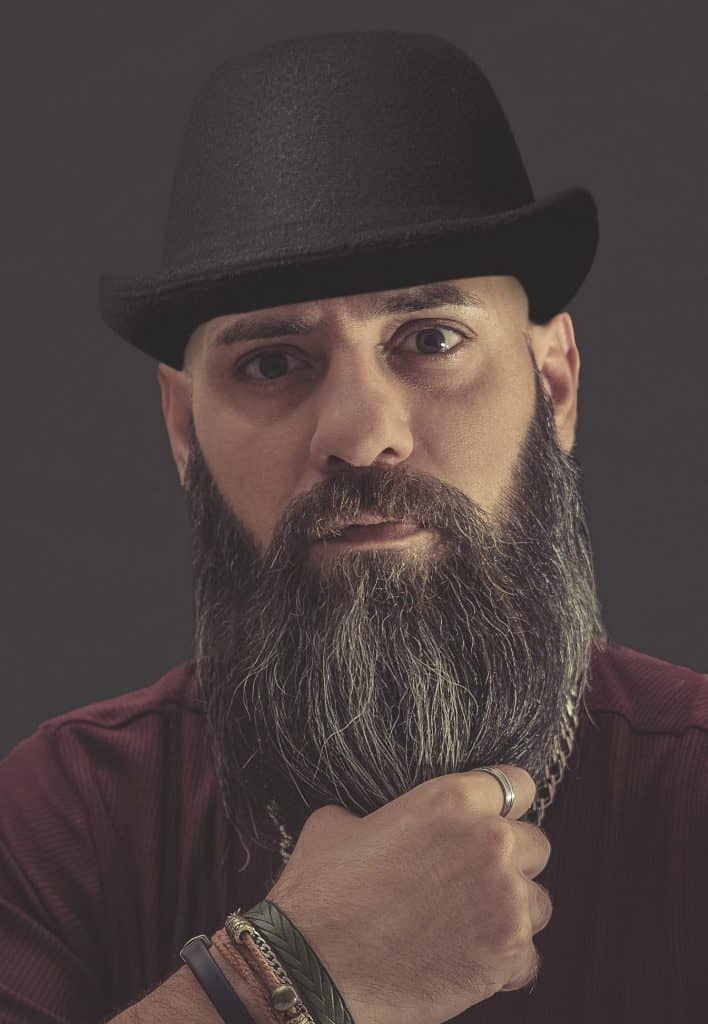 Hide grey beard hairs
Almost everyone will sooner or later discover grey beard hairs and that does not always have to be a bad thing. While they will make you look older, they also give you a degree of maturity and experience.
Some men will also find grey hair in their beard at a young age and particularly in this case, we can understand that they would prefer to hide them. With a touch of dye, you can easily do this and look a few years younger.
By the way, it is quite normal that you get grey hair in your beard earlier than on your head. Even with a gray beard, it can still take decades before the first gray hairs appear on the scalp.
To try out something new
Whether you're just tired of your natural beard color or want to jump on a fashion trend – sometimes people just want to try out new ideas and styles. For one person this might mean a change of wardrobe or a new hairstyle and for another, it could be a new beard color. So just give it a try and let yourself be surprised. If you want to express your rebellious side, there is no harm in choosing unconventional colors.
Match head and beard hair color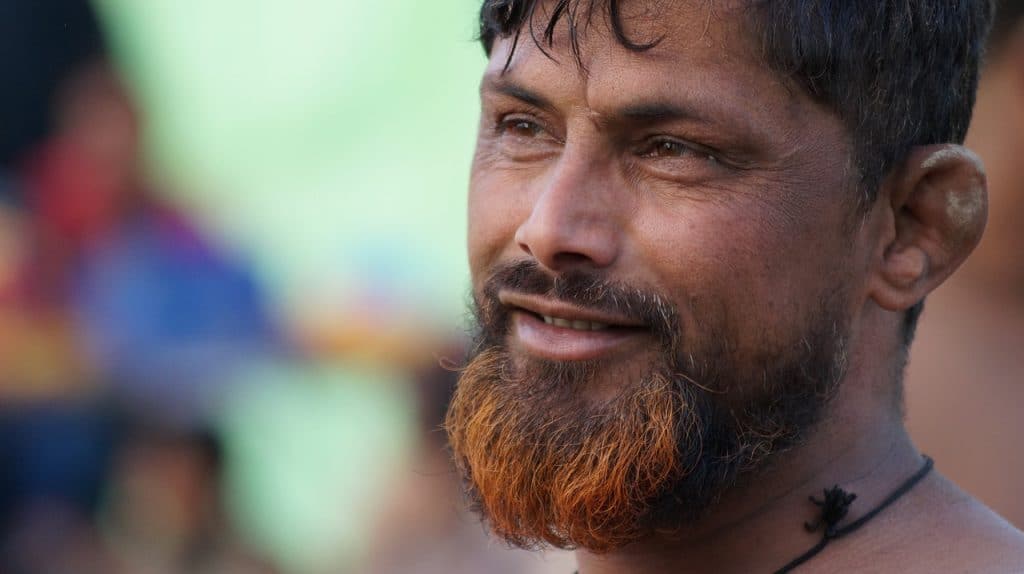 It is not uncommon that the color of the beard hairs is very different from the head hairs. Also, different shades of color in the same beard or at certain spots in the beard are more common than you probably think. Such a look can be quite good looking and unique, but more often than not it makes a rather awkward appearance. With dyes, you can match the color and achieve a more coherent look.
Make your beard look thicker
A darker coloring of the beard can make a significant difference in how dense the beard looks. One reason for this is that darker beard hairs are much more visible compared to the lighter ones, and another reason is that all beard hairs are dyed the same color. In a natural dark beard, there are always some lighter colored beard hairs hidden and as soon as they match the color of the rest of the beard, the beard will inevitably look denser. Furthermore, the beard hairs are enclosed by the dye, which makes them thicker.
Which color is the right one?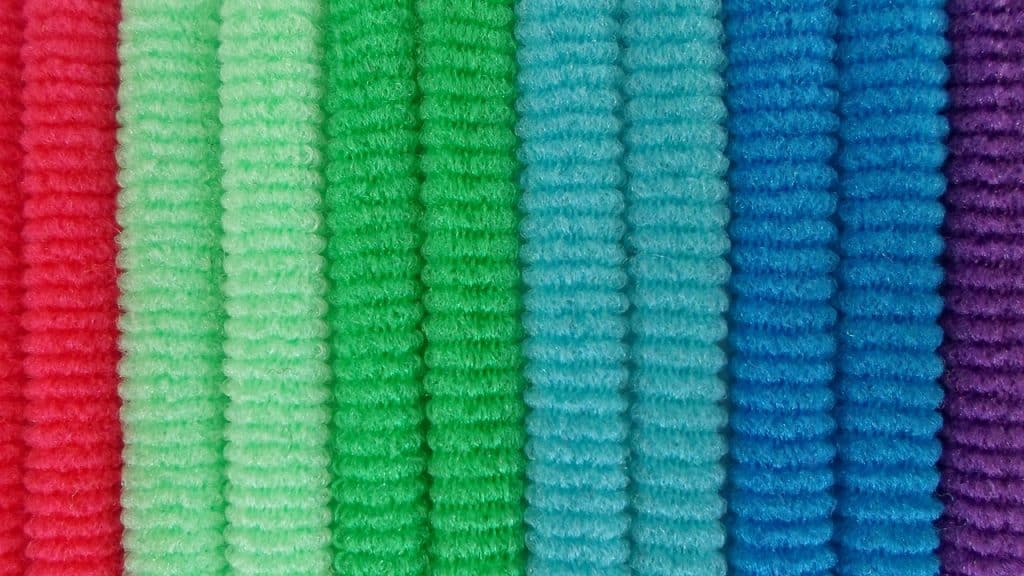 Since you will spend a long time with your new beard color, you better think carefully about which color you choose. The range of shades among the dyes is vast and there should be one for everybody. In principle, you can choose any color, but most men choose one that is similar to the hair of their head. This way it looks the most natural and people who do not know you may not even notice that your beard is dyed. Men with a bald head can go wild and experiment with different colors. However, before you go for the first best shade of black, there are a few things you should consider.
Your natural beard color will usually be a combination of many subtle shades rather than a single color. This makes it difficult to choose the right color and most people tend to choose the one that matches the darker facial hairs. However, since the colorant gives all beard hairs the same color, the beard subsequently looks far too dark and unnatural. Especially those who want to hide grey beard hairs tend to choose a too dark color.
Therefore, find a shade that comes as close as possible to your natural beard color and then opt for a slightly lighter product. If you are coloring your beard for the first time, you probably won't get exactly the right shade and that's fine. Just remember that a beard that is too light almost always looks better and more natural than a beard that is too dark. It is also much easier to darken a light beard with a re-coloring than vice versa.
If you are looking for a very specific color and it is not available anywhere, you can also contact a hairdresser or barbershop. They usually have a larger selection or can at least give you a recommendation as to which other colors might suit you. The fact that the dyeing cannot be undone easily can make the final decision very difficult. It is therefore always a good idea to visit the hairdresser for advice on the right color. Alternatively, you could make a pre-selection and then get a third opinion from friends.
Permanent or temporary dye?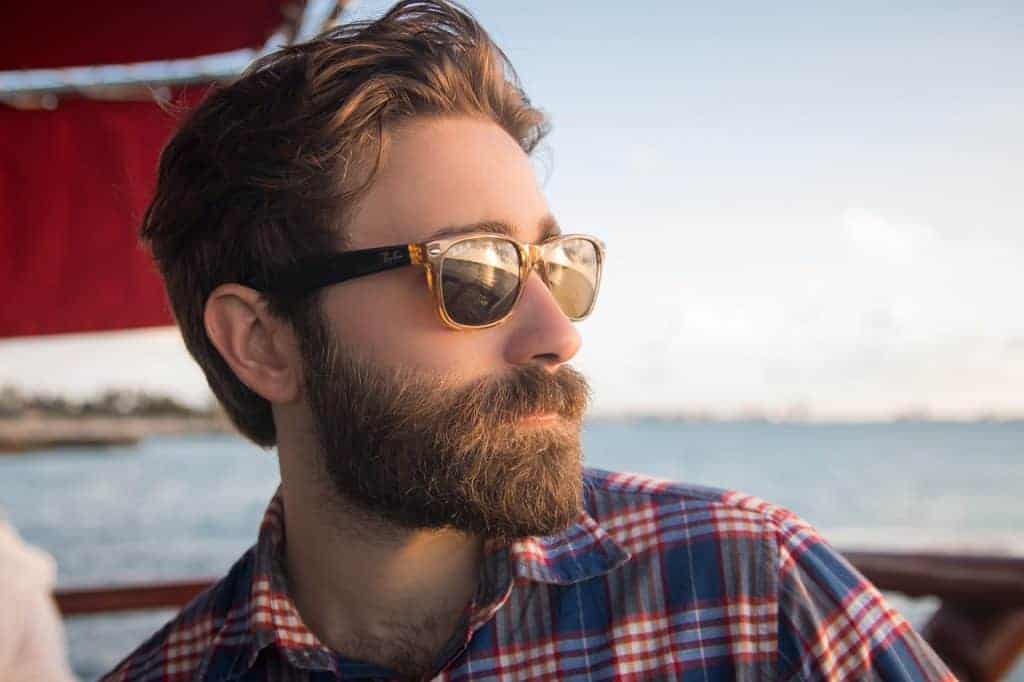 The biggest difference between the various colouring agents is the duration of the colouring. Depending on the desired result, you should choose a temporary or permanent product:
Permanent dye
First of all, no colorant is really "permanent" in the sense that it retains the color forever. Instead, it refers to products that preserve the color for a few weeks to months. It is not possible to wash the colour out and once you have dyed your beard, you will have to put up with it for a while.
This long-lasting effect is achieved by lifting the hair fibers with the help of ammonia and other substances and depositing dyes in them. Admittedly, this process, as well as the deposited dyes, can cause the beard hair to dry out considerably. That is why the right beard care is essential for a dyed beard. Apply beard oil daily to moisturize and soften the beard. In addition, Beard Balm can be integrated into your grooming routine to prevent problems like beard split ends. Usually, the range of colors is much wider with permanent dyes, which makes it much easier to find the right color.
Temporary dye
As the name suggests, temporary colorants only provide a short-term coloration of the beard – typically until you wash it. Thus it is not intended for daily use, but for special occasions or to try out a new look.
Temporary dye only tints the surface of the hair and does not damage the hair fiber. In general, this is not good for the health of the beard hairs either but is usually negligible as long as the beard is not dyed on a daily basis. In contrast to the permanent option, the temporary dye can be used to color only certain parts of the beard and not the entire one. As the application is quick and easy, they are perfect for concealing grey beard strands and making light areas of the beard look a little thicker. The choice of colors for these dyes is limited to common colors, but there are also some very special ones, which are often used for carnivals and the like.
In case you have dyed your beard temporarily, you should wash out the color before going to bed. Otherwise, you will have to expect that your sheets will become stained.
Best Beard Dyes in Review
The RefectoCil dye is particularly popular among hairdressers and is mainly used to tint eyebrows and eyelashes. However, as these hairs have similar characteristics to beard hair, they can also be used to dye the beard.
In direct comparison to competing products, it lasts relatively long – up to 6 weeks are possible. In addition, skin-friendly ingredients were chosen which should not cause any problems even for men with sensitive skin. Nevertheless, we still recommend a patch testing in order not to take any risks.
We have made the experience that with the specified application time of 6 to 10 minutes you should stick to the latter. 6 minutes refers more to the dyeing of the eyebrows and would result in a too light beard.
Since the product from Austria is primarily aimed at professional users, a developer and also other equipment such as a mixing brush often have to be purchased separately. In the case of a one-time application, the costs are comparatively high. But if you plan to dye your beard regularly, this will soon even out.
Godefroy's beard dye was specially developed for use in beards and surprised us very positively in our test. It took about four weeks for the color to fade, which is relatively long. For our review, we did not have to get any further utensils, since everything we needed was already included. We especially liked that the dye is filled in small color capsules. This makes it easier, especially at the beginning, to use the right amount and always get the same result. One disadvantage of the Godefroy Tint Kit is that the choice of colors is somewhat limited and only the most common shades are available.
All in all, we can recommend Godefrey's color kit without hesitation, especially if you are looking for a good cost/performance ratio.
Just For Men is the most popular brand for beard dyes and includes everything you need for a smooth procedure. After a short exposure time of 5 minutes, the color lasts up to 3 weeks. Compared to the other products on the market, this is not too long, but with a little practice, the re-coloring can be done quickly. Furthermore, the manufacturer excels with an extensive color palette – all common colors are available in different shades.
Despite an ammonia-free formula, some buyers report skin rashes after use, although we, fortunately, did not experience any skin problems in our test. However, especially men with sensitive skin should do a sensitivity test in advance to see if they react with skin irritations to the dye.
How you dye your beard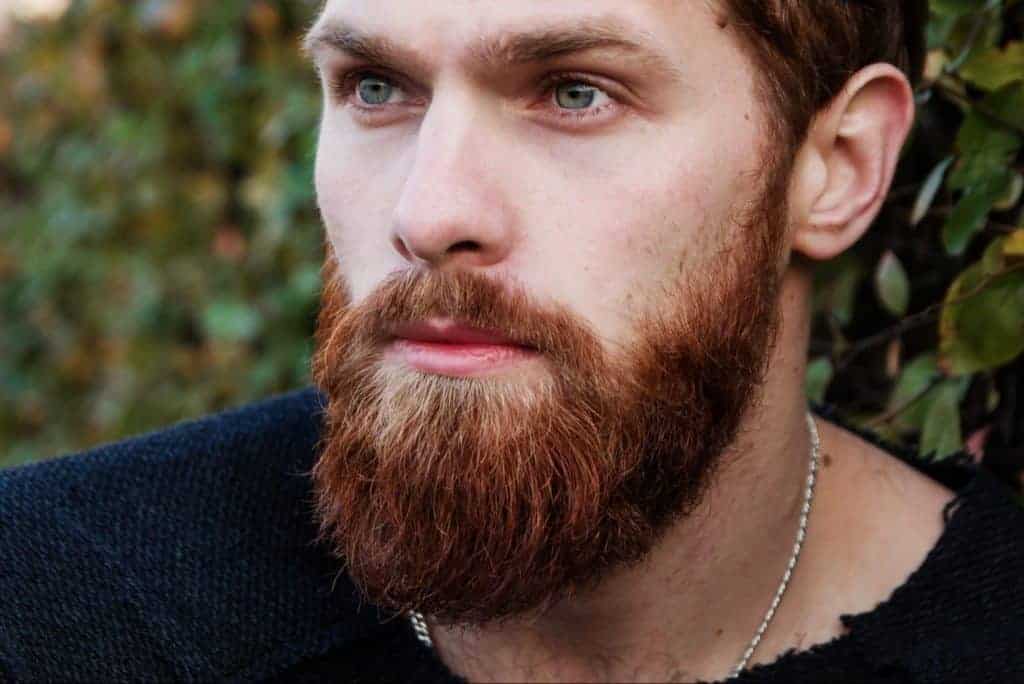 What you need to dye your beard
Before you start dyeing your beard, you should get the following things ready to make the process as smooth as possible:
Beard dye
Disposable gloves to protect your hands from the dye.
If it is not included with the dye, you can buy it on Amazon.
Dye brush to mix and apply the dye.
Usually, it is already included. Alternatively, you can get one from Amazon or simply use a toothbrush.
Vaseline or other skin creams with a high percentage of mineral oils to protect the skin around the beard from the colorants.
Paper towel or a cloth that you no longer need.
An old T-shirt (optional)
Do a sensitivity test
Dyes are made up of many different ingredients and if you are allergic to any of them, the effects would be extremely unpleasant. By the way, it doesn't matter if the dye consists of natural ingredients or whether chemical substances are mixed in. Therefore, first check your reaction to the product and apply a small amount of it to on your forearm. Wait at least 24 hours and then wash the area with soap. If you notice any skin irritation or redness, try a different coloring agent.
Should you wash the beard first?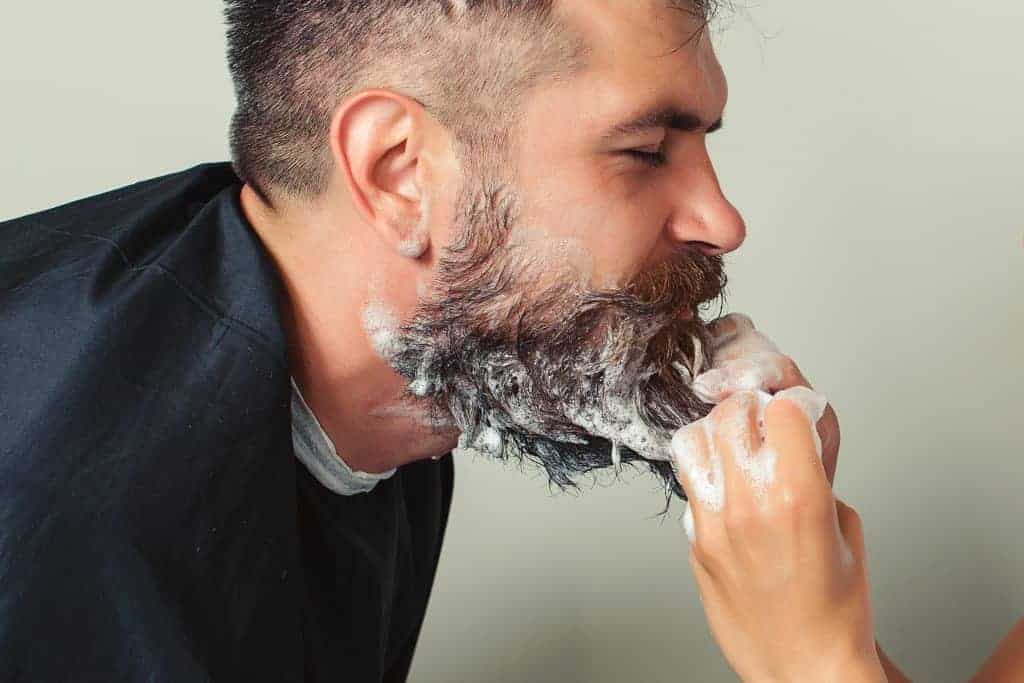 Opinions are divided on whether the beard should be washed before dyeing. Some claim that washing the beard removes all dirt and oils from the beard and makes it easier for it to absorb the colorant. The other side believes that it is precisely the oils contained in the beard that ensure that the dyes are absorbed most effectively.
The truth probably lies somewhere in between. Dyeing a dirty beard is definitely not a good idea and therefore you should at least wash it in the morning and clean it from any rough dirt with a beard comb just before. Also have a look at the instructions for your beard dye, as they often address this issue. If they contain any specific instructions, follow them.
Protect yourself from the dye
Depending on the composition of the dyes, they can be aggressive and lead to skin irritation or other skin problems. Put on disposable plastic gloves and apply some Vaseline or another skin cream with a high mineral oil content to the skin around the beard to avoid any risk. Chances are that a bit of dye will miss and stain your clothes. So it is best to wear old pants and a t-shirt, which you do not need anymore.
Prepare the dye
In most cases, you simply mix the dye with a thickening solution. Depending on the formula, the preparation procedure and the mixing proportions can differ. You should, therefore, read the included instructions for your beard dye very carefully. Do not use your mixing brush for mixing, as the ends of the brush can stick together during stirring, which makes it more difficult to use in the beard later.
Apply the dye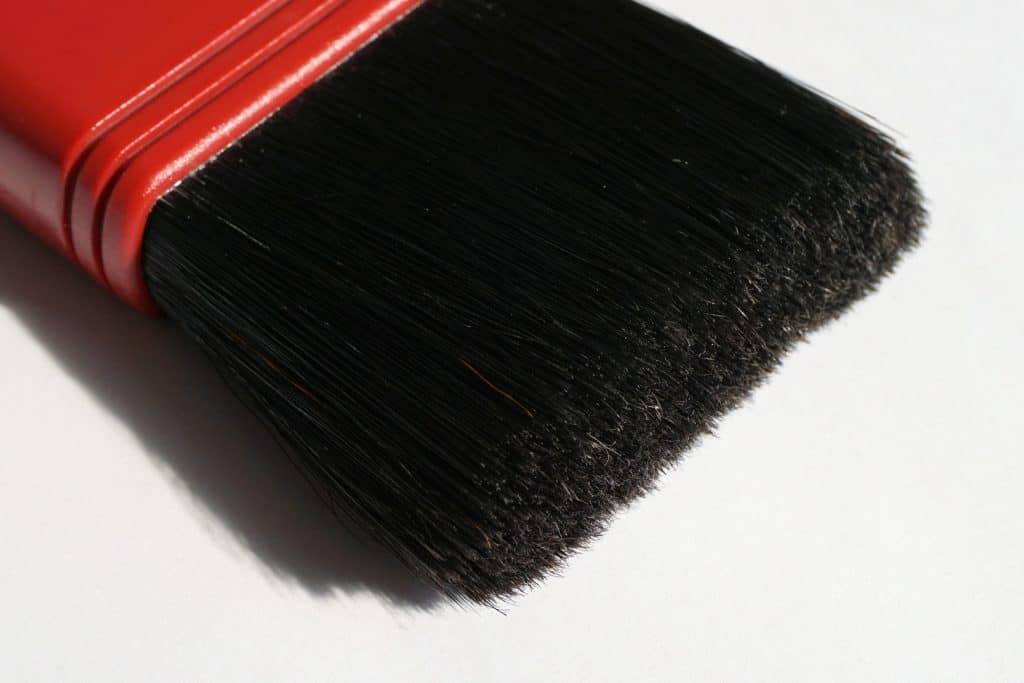 Use a dye brush to distribute the color evenly throughout the beard. The best way to do this is to move the brush up and down until no more uncolored areas are visible. Avoid direct contact with the skin as much as possible and protect your hands with plastic gloves. If the dyeing brush is not included in the beard dyeing kit, you can also get one at any drugstore, online, or alternatively use a toothbrush.
Never rub the paint into the beard with your hands! This will cause the dyes to enter the pores of the skin, causing skin irritation and leaving color marks on the skin.
Allow the dye to set in
Next, you need to be patient and let the dye take effect in the beard. The time it takes varies depending on the dye used and is usually specified in the instructions. Stick to them as closely as possible to achieve the desired color. Some dyes get darker if they are left on for longer, although this is not always the case. In rare instances, the color may need to be applied several times, so read the instructions thoroughly.
If you are dyeing your beard for the first time, we recommend you choose a slightly lighter shade. A beard that is too dark is often perceived as unnatural and it is much more difficult to lighten it than the other way round. It is also possible that the color of your beard after dyeing does not exactly match the advertised color. In fact, the color may differ from person to person and depends on many factors such as the thickness of the beard hair or the initial color of the beard. Should the shade then appear too light to you, you can simply re-dye the beard with the same color and darken it this way. Alternatively, you can of course opt for a darker coloring agent.
Wash your beard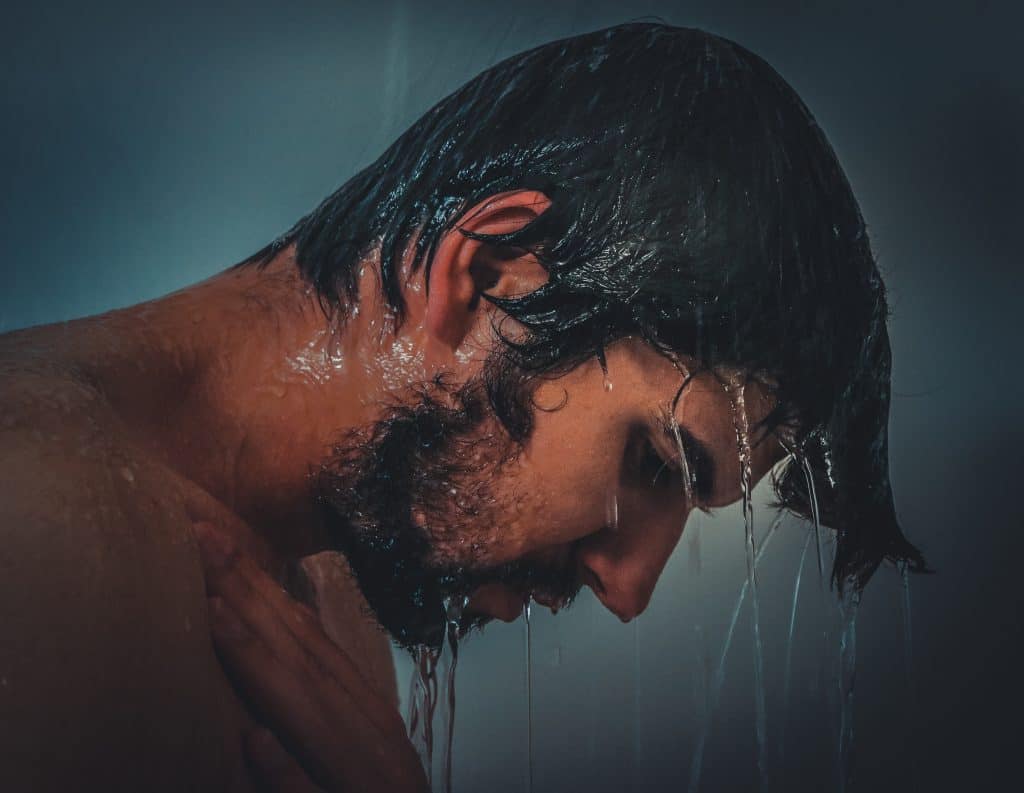 Congratulations, you've successfully dyed your beard. Now you only have to wash out the remains of the dye from the beard. Leave out the beard shampoo for now and wash the beard with cold water until there is no more residual dye in the water.
The proper beard care after dyeing your beard
Because dyeing the beard involves lifting the hair fiber to allow the dyes to penetrate, the beard hairs are weakened and require more care than usual. Besides, the right beard care also ensures that the color is retained for longer and that the beard always looks well-groomed. Incorporate the following steps into your beard care routine to ensure that your beard recovers as quickly as possible:
Wash your beard with beard shampoo: Apart from removing all dirt from your beard, it also helps you to prevent dandruff in your beard. Do not use conventional hair shampoo, as it is much more aggressive in comparison and removes even more moisture from the already dry skin.
Use beard oil daily: With the help of Beard Oil, you can provide your beard with the much-needed moisture to keep it soft and supple and prevent itching.
Don't put any extra stress on your beard: During the first few days after dyeing, give your beard some time to recover and don't dry it out even more. For the time being, keep your fingers away from the hair dryer and flat iron and switch to other methods of straightening your beard. Beard balm and mustache wax are excellent alternatives and also support the beard with nourishing oils.
FAQ
Dye it yourself or go to the hairdresser?
Most men dye their beards themselves, as there are many advantages and the process is relatively simple. However, under certain circumstances, a visit to the hairdresser or barbershop can be worthwhile.
Dyeing by yourself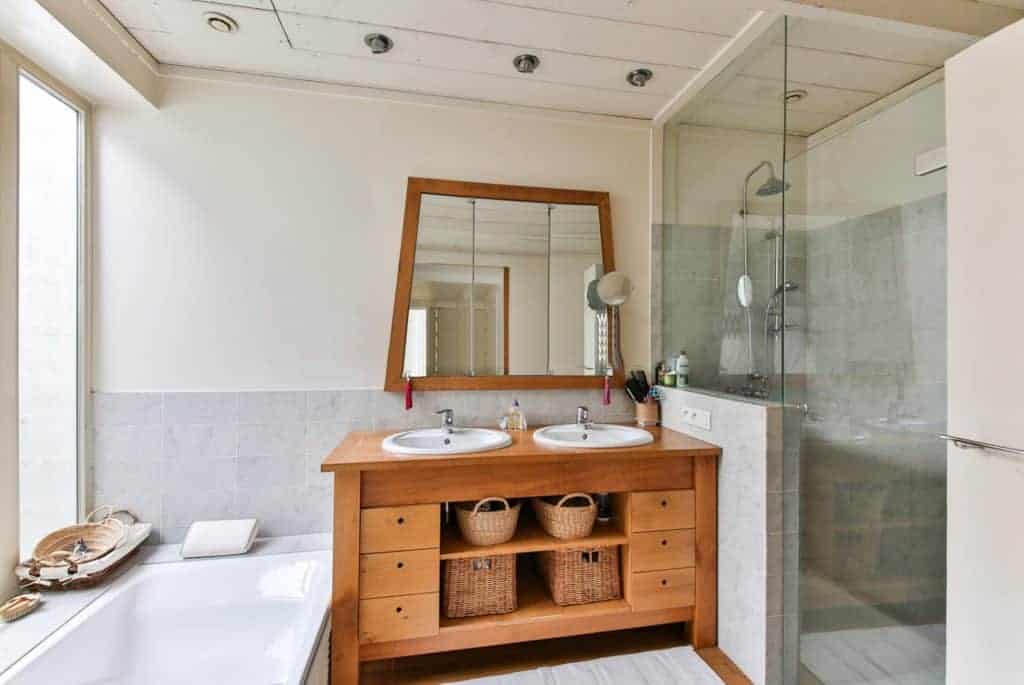 Have it dyed at the hairdresser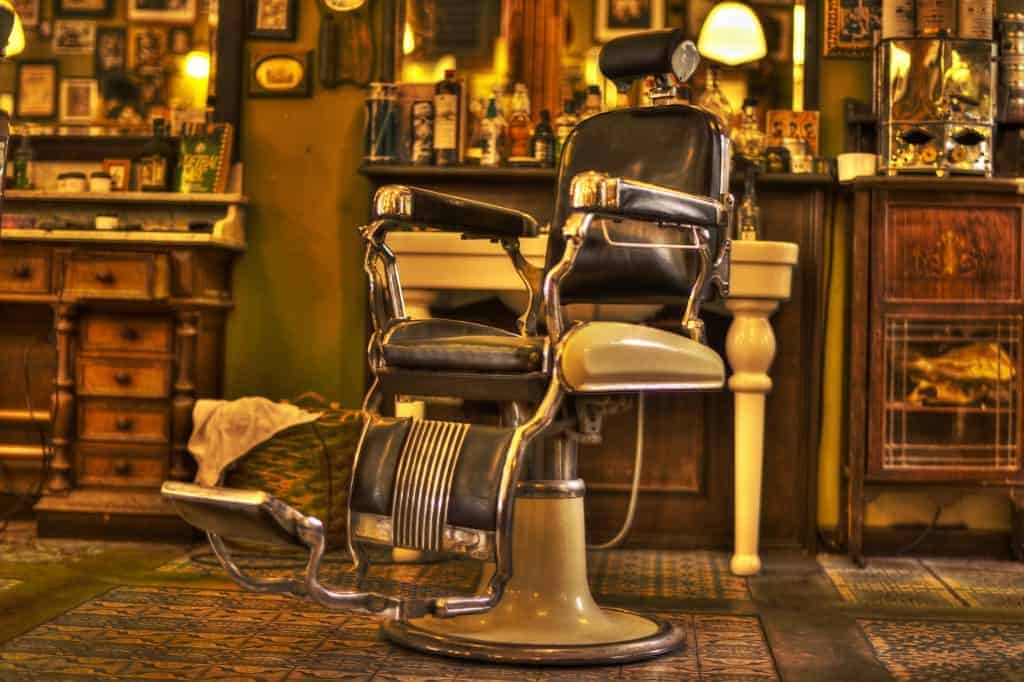 In conclusion, we would only recommend a visit to the hairdresser if you are really unsure about the color choice or simply cannot find a suitable color. All others can try it themselves without hesitation.
At what length can the beard be dyed?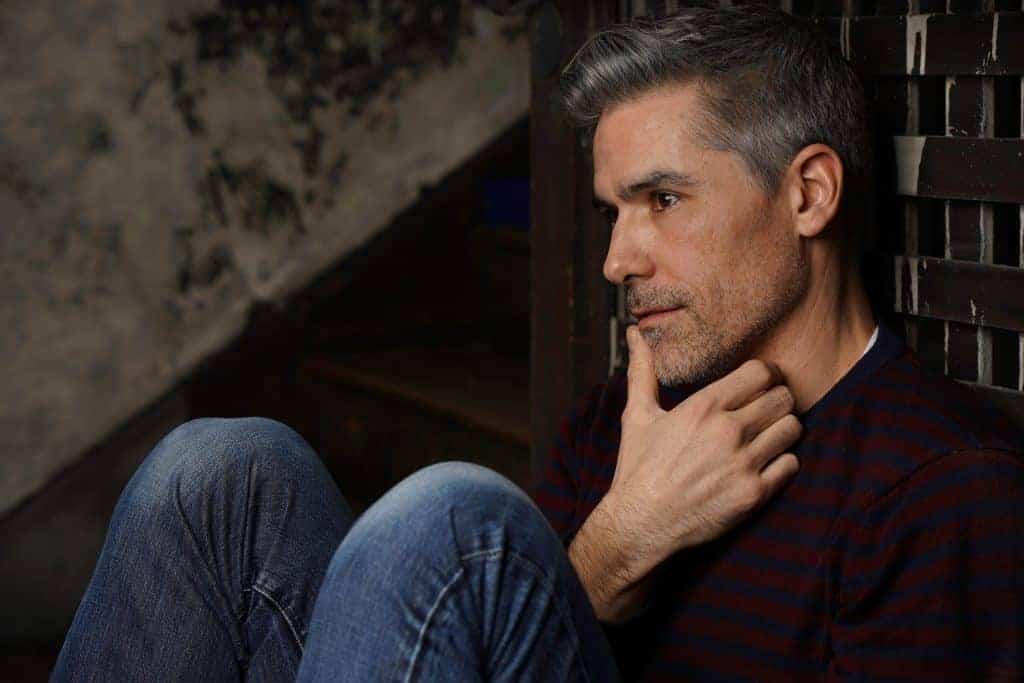 In general, you can dye the beard from any length without any problems. However, the coloring will unfortunately not last very long on a short beard, as the beard hairs will continue to grow and your natural beard color will quickly become visible again.
In fact, beard hair grows about one-quarter-inch per month. Thus, the coloring for a typical stubble beard will only be partially visible after only a few days, which may look a bit weird. If you wish to dye your beard anyway, we suggest that you use temporary dyes. Once the beard has grown a little longer, you can switch to permanent dyes and benefit from them for a longer period.
Is it possible to dye the beard with mascara?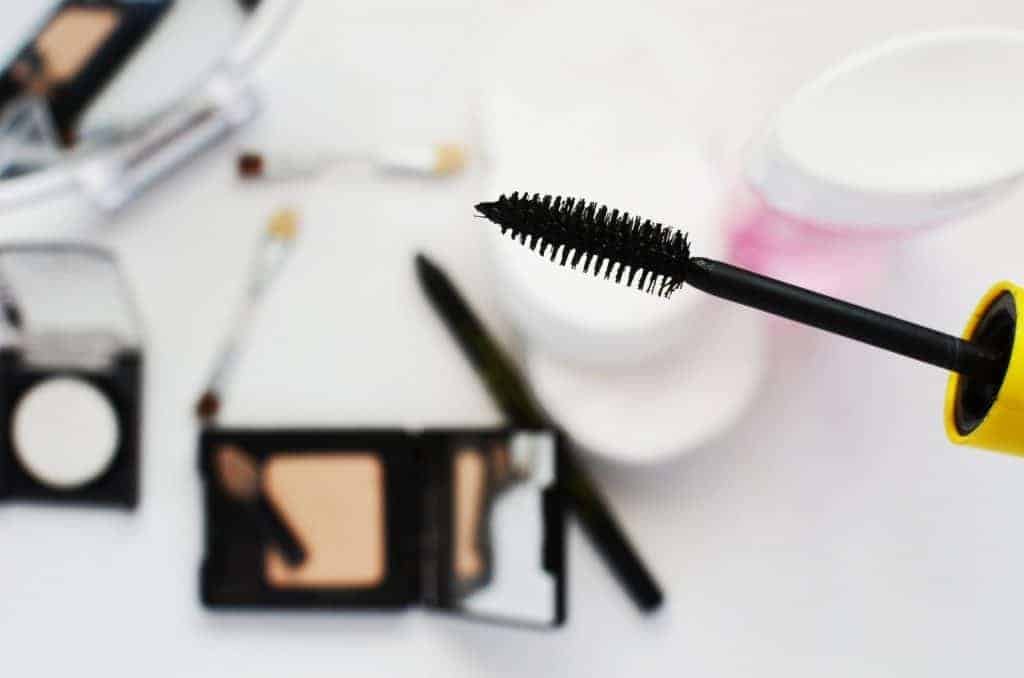 Mascara is primarily used by women to tint their eyelashes and eyebrows. By tinting them, they appear larger and thicker, which can also be used for beards. Therefore, it is perfect for making a few grey whiskers disappear in the mustache or to give the beard a makeover for special occasions. However, since the color disappears after washing the beard, it is not suitable for everyday use. If you are not yet ready for permanent coloring, you can also use mascara to test how a dyed beard would look on you.
How long does beard dye last?
Unfortunately, there is no clear answer to this question, as the duration depends on many factors. The ingredients as well as the care and the original color of your beard play an important role. Usually, you will find an approximate time specification in the instructions of your beard dye.
Furthermore, the coloring will fade slightly with every beard wash using beard shampoo. But this does not mean that you should do without it, because otherwise, you run the risk of facing entirely different problems such as beard dandruff. Besides, beard care products such as beard oil can make sure that the color lasts a little longer and retains its shine. But even under the best conditions your beard will lose its colour the moment it grows back. Actually, within a month, a little more than one-quarter-inch of beard hair will grow back in its original color.
Can the beard be dyed with hair dye?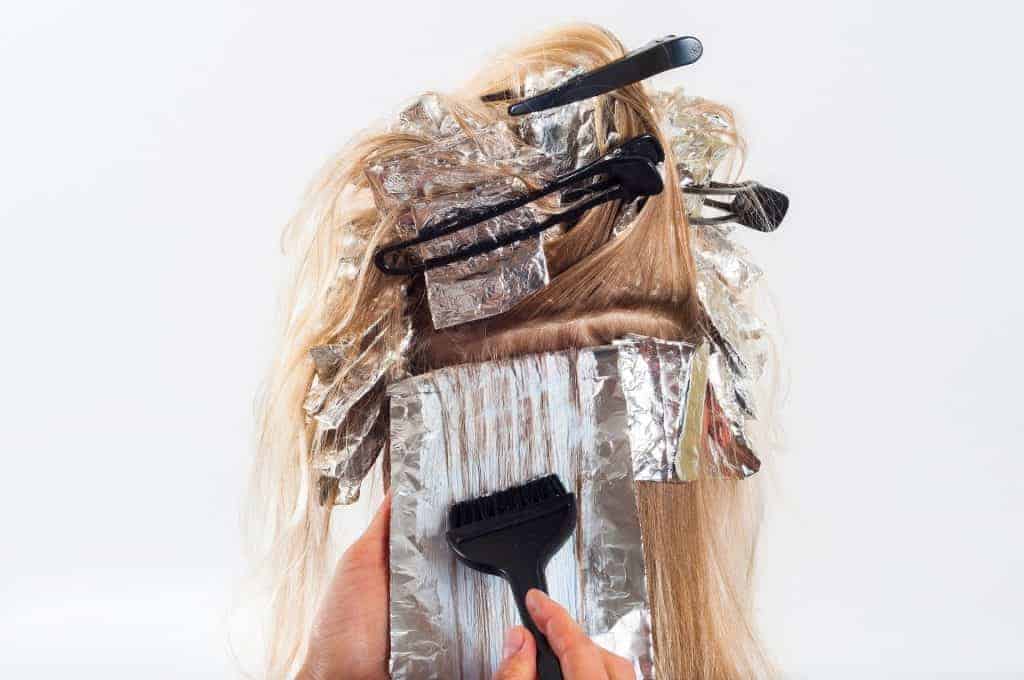 Generally, the beard can also be dyed with conventional hair dyes. However, you must be aware that the colour shown by the manufacturer probably won't match your result exactly. The reason for this is that the beard hairs are thicker and have a different structure compared to the head hairs. The skin under the beard is also more sensitive than the scalp, which can lead to problems with particularly aggressive dyes.
Since the price difference is not very big, we recommend to use a beard dye, which was developed specifically for this purpose and takes into account the peculiarities of the beard. You can make an exception if you are looking for a very unusual colour which is not available as beard dye.
Are Beard Dyes also available at drugstores like CVS, Walgreens, Walmart or Rite Aid?
In most major drug markets you will find beard dye, although the choice will be limited. (Actually, you will probably only find products from "Just for Men")If your preferred color is different from the usual base colors, you will be out of luck and will probably have to purchase the dyes online.