A beard comb belongs to the basic equipment of every beardsman who values a well-groomed look. There are good reasons for this, as combing the beard prevents numerous beard-related problems and keeps the beard healthy. We have looked at a wide range of combs to find the best among them, and at the same time answer all questions regarding this useful tool.
Quick Overview: Best Beard Combs
| | | | | | | |
| --- | --- | --- | --- | --- | --- | --- |
| | Our Pick | Best Value | Budget | | | |
| | | | | | | |
| | | | | | | |
| Manufacturer | Kent | Onedor | Viking Revolution | Mason Pearson | Rocky Mountain | Striking Viking |
| Material | Cellulose acetate | Buffalo Horn + Sandalwood | Sandalwood | Cellulose acetate | Pearwood | Sandalwood |
| Teeth Width | Wide + Medium + Narrow | Wide | Medium + Narrow | Medium + Narrow | Medium | Medium |
| Dimensions | - | 8 x 2.25 inches | 4.25 x 2.25 inches | 5 x 1 inches | 5.4 x 2 inches | 4.3 x 1 x 0.5 inches |
| Price | € € | € € | € | € € € | € € | € € |
| | | | | | | |
Why you should comb your beard
On Beardesy we often discuss the typical problems that men with beards face eventually. Whether it is about stopping an itchy beard or softening the beard hairs, our tips often include that you should comb your beard regularly and for good reason. In the following section, we look at all the benefits and point out why combing is essential for proper beard care.
Free your beard from dirt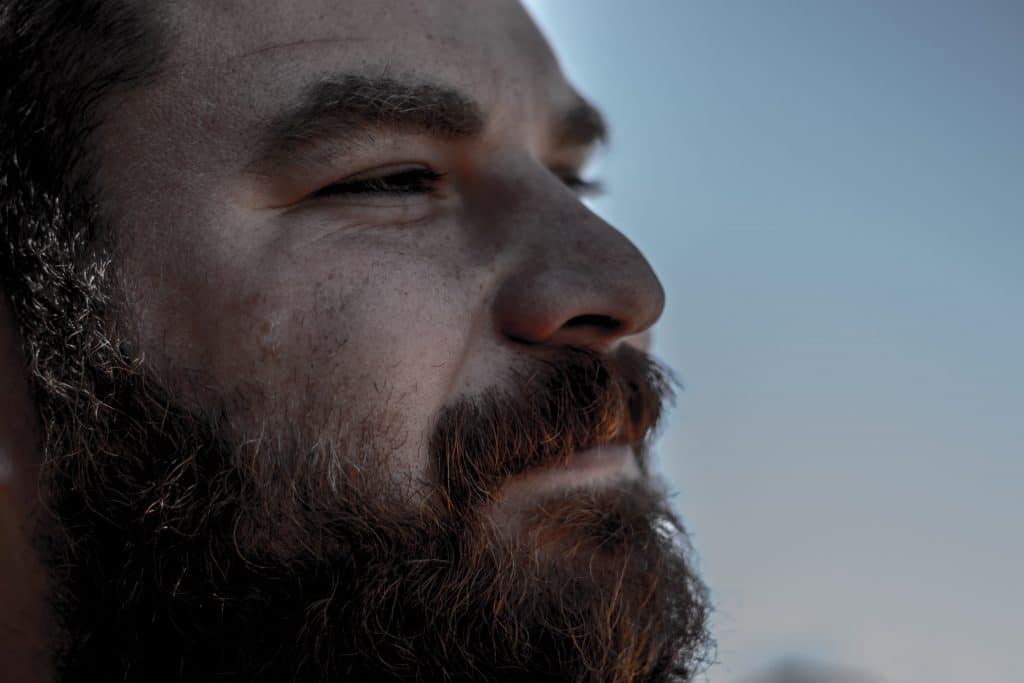 After a decent meal, it is common for leftovers of food to end up in the beard. Besides that, a lot of dirt and grime builds up in the beard during the course of the day due to many external influences. Washing the beard is not always an option and it is in these situations that a beard comb can remove the bulk of the dirt.
In addition, there are also impurities in the beard that a beard wash with water does not or only partially remove. We refer to dead skin cells accumulating on your skin, which are naturally produced by the body's own cell renewal process. By combing you can detach them from the skin and remove them before they conglomerate into dandruff.
Incidentally, this does not mean that you can skip washing the beard with water and beard shampoo. This is just as important for proper beard care and a prerequisite for keeping the beard crystal clean.
Combing keeps your beard hair healthy
The main cause of many beard problems is dry skin. This can easily be remedied by supplying the skin with moisture and other valuable nutrients through beard oil or beard balm. However, combing the beard can also contribute significantly to replenishing the beard with the moisture it needs. By combing, both the oils from the beard oil as well as the sebum produced by the body are spread throughout the beard, thus coating the individual beard hairs with a protective layer of oil. This makes the beard soft and eliminates any itching.
Make your beard look great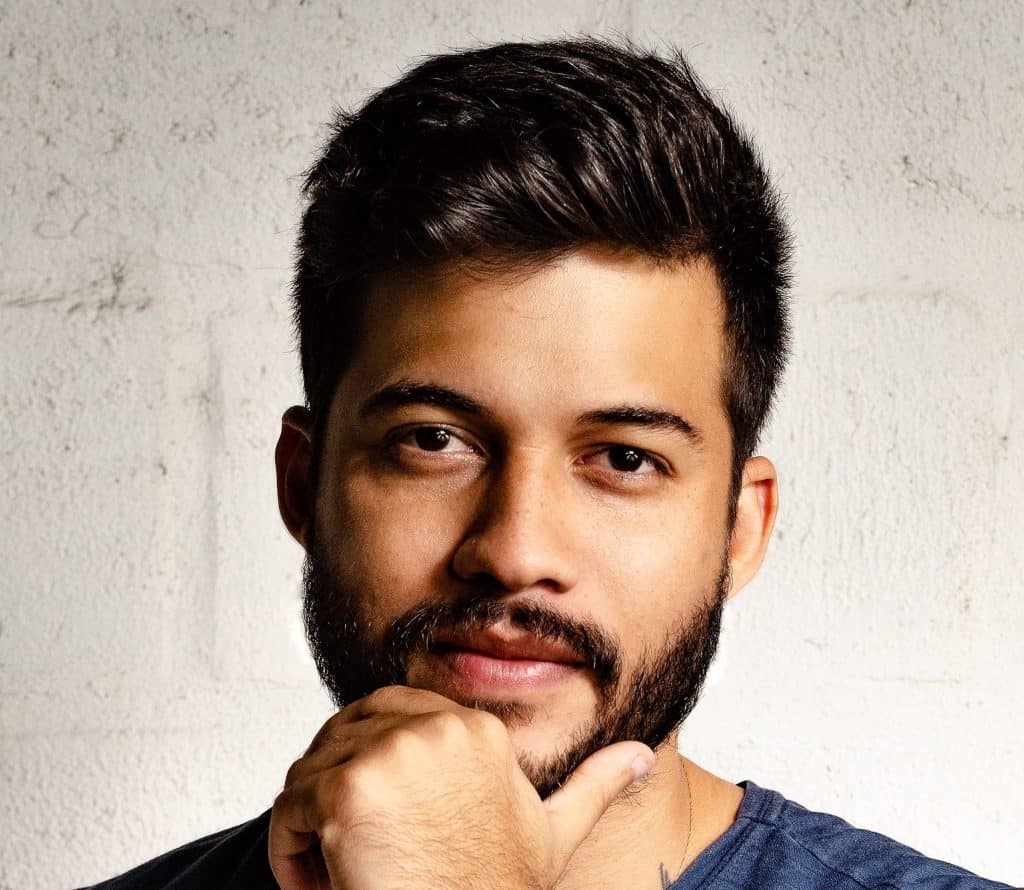 Apart from the positive health benefits, a beard comb allows you to achieve different beard styles. Besides, it also helps you to keep a curly beard under control and to straighten hairs that stick out. For some complex beard styles you may need to use other styling products, but with a little practice, you can accomplish a lot with the beard comb alone.
If you comb your beard often enough in a certain direction, the beard hair will "remember" this position and try to maintain it by itself. This way the beard will always stay in top shape and you will leave a well-groomed impression. Mustache wearers should pay special attention to this tip, as it can be very annoying and unpleasant if the hold of the whiskers weakens and you then have them constantly in your mouth while eating. With combing, the hairs stay away from your mouth and won't get on your nerves.
Avoid ingrown beard hairs
Once a beard hair has grown in, it is a painful and lengthy procedure to get rid of it. You can prevent this from happening in the first place by using a beard comb. In most cases, ingrown hairs are caused by a beard hair curving backward and thereby pressing against the skin laterally or from above. Due to the constant pressure it ultimately penetrates the skin and continues to grow happily underneath. By combing the beard hairs, you will straighten them, untie knots and make sure that they grow in the right direction. As long as you do this, there is no risk of ingrown hairs.
What makes a good Beard Comb
Material
For the production of a beard comb many different materials are used. We have looked at the most common ones and compared the pros and cons.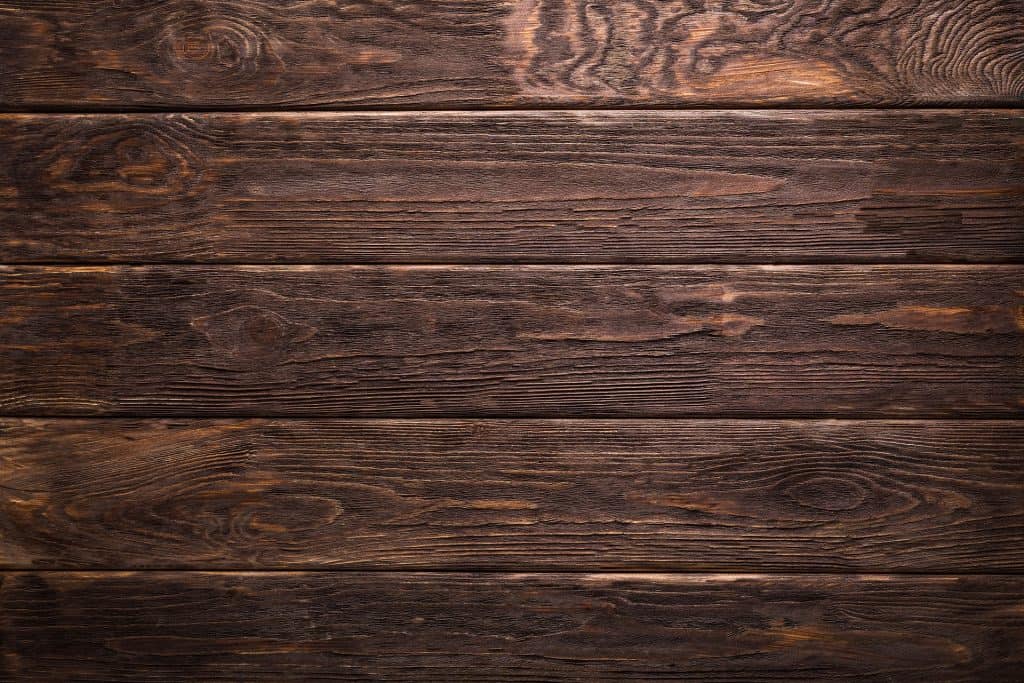 Wood
If you search for hair combs, you will find relatively few made of wood. With beard combs, it looks completely the other way around and there is a good reason for this. As already mentioned, the beard and the facial skin carry the body's own oils and, ideally, beard oil, which ensures that the beard remains supple and soft. Wood is so well suited as a material because it not only distributes these oils but also absorbs them. So if you have used a wooden comb for a while and then comb your beard with it during the day, you will also give your beard a little wellness treatment with these oils and thus provide it with moisture and valuable nutrients again.
Apart from this, the wood also has its unique charm, as it discolors slightly over time and takes on the smell of the care products you use. Furthermore, in the majority of cases, it is more solid than plastic and therefore lasts longer. We have found that wooden beard combs often have softer tips compared to other materials, which minimizes the risk of damaging or scratching the skin under the beard.
Beard combs made of wood are available in a wide variety of wood types. Basically, any hardwood is suitable for this purpose, with sandalwood being the most common one. This is probably because sandalwood has a sweet scent that retains a spicy and smoky aroma at the same time. Especially in the early morning, this pleasant scent makes beard care a little easier and more relaxing.
Metal
Beard combs made of stainless steel are especially popular in the outdoor community. For those people, it is essential that a product does not break under any circumstances and always remains functional. The metal fulfills this requirement masterfully, as it does not bend or break even under great stress. In addition, a metal beard comb feels handier due to the higher weight and looks great, although that is a matter of taste.
That's all well and good, but there is one critical issue with the metal gadget, which completely rules it out for us. The edges of such a beard comb are sharp and thus damage the beard hairs and hair follicles. This sharp-edged surface is mostly invisible to the human eye and even with well-manufactured products, it is not completely smooth. So as long as durability and sturdiness are not your absolute priority, it is better to opt for a different material.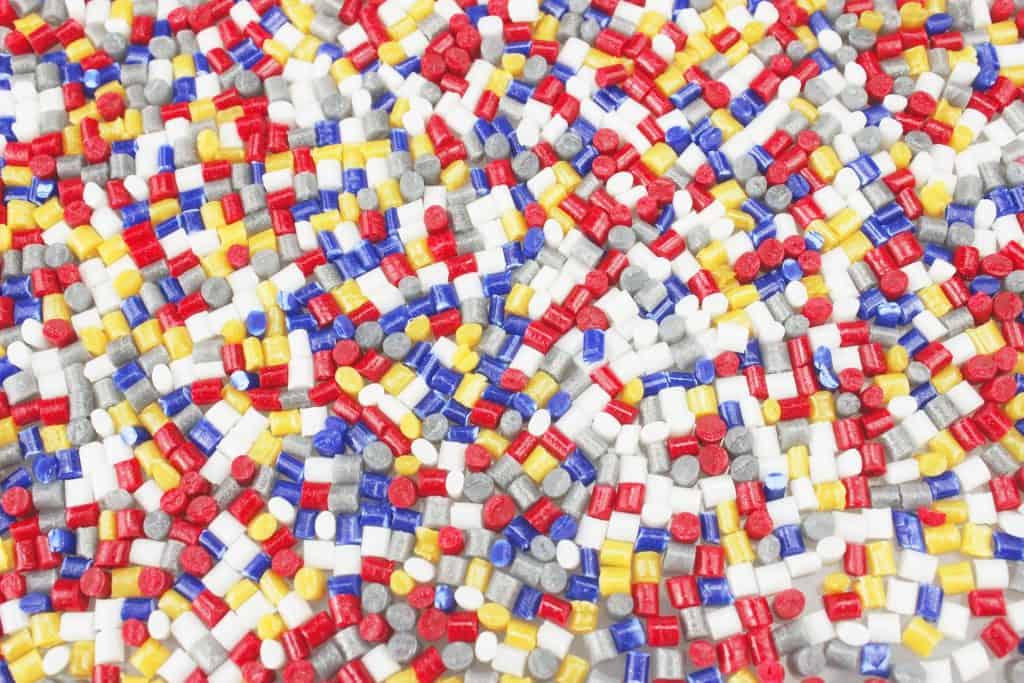 Conventional plastic
Combs, which are made of regular plastic, are usually very cheap, which is also reflected in the quality. They are often poorly made and when using them you have to expect that microscopic jagged edges along the teeth of the beard comb may damage your facial hair. Not only that, but these combs also become electrostatically charged and the teeth often break off, which means that you will have to buy another product anyway. Better invest a little more money, as your beard will thank you for it.
Cellulose acetate
Unlike normal plastic, this material is perfectly suited for beard care due to its antistatic properties and durability. This thermoplastic is a biodegradable natural product, which is made of cellulose and acetic acid. Manufacturers who use this material also usually ensure that the rest of the comb is well-processed and that there are no sharp-edged surfaces. So if you decide on a plastic comb, make sure that it is made of cellulose acetate.
Horn
Horns from various animals such as oxen, cows, and deer are also well suited for making a beard comb, as they contain keratin, which can also be found in human hair. Due to this protein, the friction is reduced and thus it allows the comb to slide easily through the beard. On top of that, a comb made of horn does not become electrostatically charged and therefore does not damage the beard. Unfortunately, despite the higher price tag, animal horn is often somewhat fragile and so a prong may break off. If you have no problem knowing that the material comes from an animal, it is definitely a good choice for a beard comb.
Teeth Width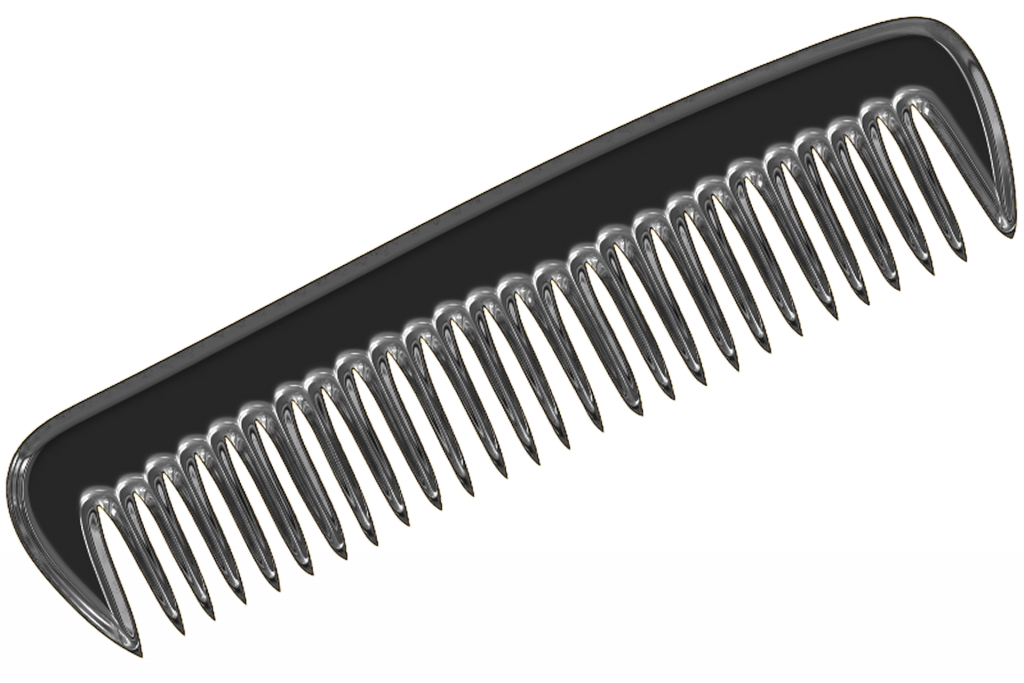 Beard combs are available in many different shapes and sizes and which one fits you best depends entirely on your beard. So certain combs may be more suitable for thick or thin beard hairs and depending on which beard style you prefer, it will be easier for you to achieve a perfectly styled beard or rather a natural and dynamic look.
Narrow teeth: If you have a relatively short beard or are just starting to grow one, a beard comb with narrow teeth will be ideal for maintaining a neat and clean appearance. In principle, the smaller the gap between the teeth, the straighter the beard hairs will be. With a longer beard, however, you may run the risk that the comb "pulls" the beard hairs.
Medium-width teeth: As the name suggests, this size fits perfectly with medium-sized beards.
However, large beards can also benefit from it to tweak the beard style a little and straighten it. If you have difficulties deciding, you cannot go wrong with this size.
Wide teeth: These are intended for large full beards like the Bandholz beard. With them, it is easy to undo knots in the beard and give it a rough structure. Once this is done, you usually need to use a finer comb to make the beard shine in all its glory.

All beard combs must have sufficiently rounded tips of the teeth. If this is not the case, it is not only unpleasant but can also lead to skin irritation.
Saw-cut or Stamp-pressed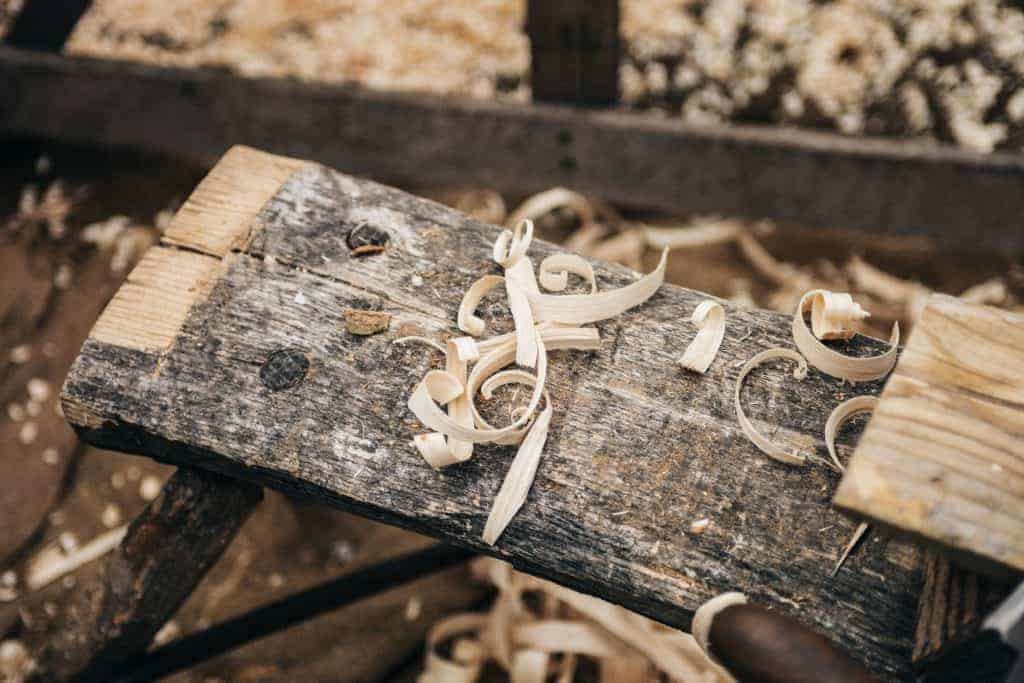 Low-quality beard combs usually have one thing in common – they are mass-produced and pressed out of plates of the respective material. This production method is very cheap and at the same time extremely time-saving, which in itself is not a bad thing.
However, there is a big catch, because pressing leaves small sharp edges along the teeth of the beard comb. These jagged edges cause the beard hairs to get wedged and pulled during combing. In most cases, you won't even notice this, but it will gradually damage the beard hair, which sooner or later will fall out. Apart from that, machine-pressed beard combs are almost always made of inferior material and therefore break faster, which in turn makes maintaining the beard more difficult.
The opposite is true for saw-cut or hand-made combs. The combined effect of high-quality material and individual sawed and polished teeth ensures that the comb literally slides through the beard, leaving it knot-free and well-cared for. Therefore always choose these products if your budget allows it.
6 Beard Combs in Review
Kent is one of the oldest hair comb manufacturers in England and is known worldwide for its high-quality combs and brushes. The reason for the high popularity of the products is the extraordinary craftsmanship that allows the comb to fly through the beard without snagging.
The manufacturer achieves this by using cellulose acetate, robust and natural plastic. The individual teeth are saw-cut and polished with tiny circular saws until they are completely grate-free. Unfortunately, cellulose acetate does not absorb oils, which is the only disadvantage in direct comparison to high-grade hardwood.
Kent offers combs in different sizes that cover the different stages of beard growth. A set of three different combs is especially inexpensive. It contains two combs with wide and medium wide teeth and a mustache comb. This mustache comb is specially designed for upper lip beards, which is immediately noticeable by its very small size. Despite its tiny appearance, the comb is easy to handle due to the handle, allowing the mustache to be brought into perfect shape without problems.
The comb from Onedor combines the advantage of wood and horn in a single product. The solid sandalwood reinforces the handle and makes it almost indestructible. The wood is also more grippy than other materials, which improves handling.
Buffalo horn which has been hand-sawn and polished with great care is used for the teeth, allowing the comb to slide easily through the beard. Usually, the horn is less sturdy, but this is not a problem with this comb as the teeth are relatively large and wide. Due to the wide teeth, this antistatic comb easily frees a longer beard from any beard knots.
For those who have issues with the use of animal horn, the manufacturer also offers an alternative that is made exclusively from sandalwood. We have not specifically reviewed this comb, but we assume that it meets the same quality standards.
The comb from Onedor unifies the benefits of both materials in a single product and convinces with very good workmanship at an affordable price, which makes it our best-value winner.
The Viking Revolution beard comb is made of sandalwood, although the manufacturer changes the material to pearwood from time to time. The pearwood is much lighter and has no visible grain. In our direct comparisons, we found that it is somewhat harder and less elastic, which adds to its sturdiness. In contrast to the odorless pear wood, sandalwood has a pleasant woody scent. The edges are also slightly rounder and softer in direct comparison.
Due to the differently-sized teeth on both sides, the Viking Revolution Comb is ideal for both long and short beards. Additionally, the manufacturer also includes a leather case, which can prove to be very handy for frequent travelers.
In summary, we can make a recommendation for the Viking Revolution beard comb, as it is a well-made product for an affordable price. Admittedly though, it is machine-pressed, which is why it does not match the quality of some of the competing products.
The manufacturer Mason Person has its origins in the United Kingdom and has been distributing high-quality care products worldwide since 1860. However, the combs are actually handmade not in the UK but in Switzerland.
As with Kent combs, color-treated cellulose acetate is used as material. This naturally derived plastic is much more robust than conventional plastic and is gentle on the hair due to its sophisticated workmanship. Compared to competing products, you will notice a huge difference when combing, which is due to the smooth teeth and rounded tips. We didn't notice any pulling or snagging caused by ridges on the surface.
The beard comb is relatively large and has two different-sized teeth. The medium-sized teeth allow you to undo any beard knots and with the fine side, you can round off the look. For most beardsman the two sizes will be sufficient, but if you have a big full beard, we suggest you use combs with wider teeth.
Unfortunately, the complex manufacturing process in Switzerland has its price and so this beard comb comes at a slightly higher price. But in return, you get a top product that lasts long and leaves the beard perfectly styled and healthy.
With this beard comb, Rocky Mountain is not undertaking big experiments and instead delivers a reliable and simple comb made of pearwood. Pearwood is especially known for its robustness, which is why you can largely rule out that this beard comb will break.
Like other types of wood, it does not become electrically charged and is therefore antistatic. However, what it does absorb and distribute are the natural oils in the beard, which keep it healthy and well cared for. In conjunction with the smooth teeth, these oils allow the comb to glide through the beard and straighten it without any problems. The teeth are more in the medium range and are suitable for long beards as well as short ones.
Due to its relatively small size, the comb will fit in any trouser pocket and is thus a great travel companion. If you are looking for a high-quality wooden beard comb that also looks good, you have found the right one.
The beard comb of Striking Viking is visually a real eye-catcher. The detailed logo was engraved by laser and due to the folding mechanism, it looks fashionable and modern. Unfortunately, this folding mechanism is also the main point of criticism for this product.
After a while, the folding mechanism may get wobbly and the screw responsible for this cannot be tightened again easily because it is encased in the wood. We didn't have this problem, but according to some customer reviews, the glued joints between the wooden plates may become loose and thus render the comb useless.
Nevertheless, the beard comb from Striking Vikings is particularly suitable for those who travel a lot and place special value on design.
This product from Beard Mason is not a beard comb in the typical sense, but a beard shaping tool. These are designed to make trimming different beard styles easier and to achieve a symmetrical look.
In most cases, beard templates are made of plastic or metal and have an integrated beard comb, which is almost always useless. In contrast, Beard Mason uses wood as a material and thus offers a suitable comb.
If you might benefit from a beard shaper and need a beard comb at the same time, this product might be just the thing for you. In general, we recommend using a separate high-quality beard comb, because such a comb will usually be of a higher quality and this will eventually benefit your beard hairs. Please also have a look at our extensive review of other beard templates, if you are interested in getting one.
How to comb your beard properly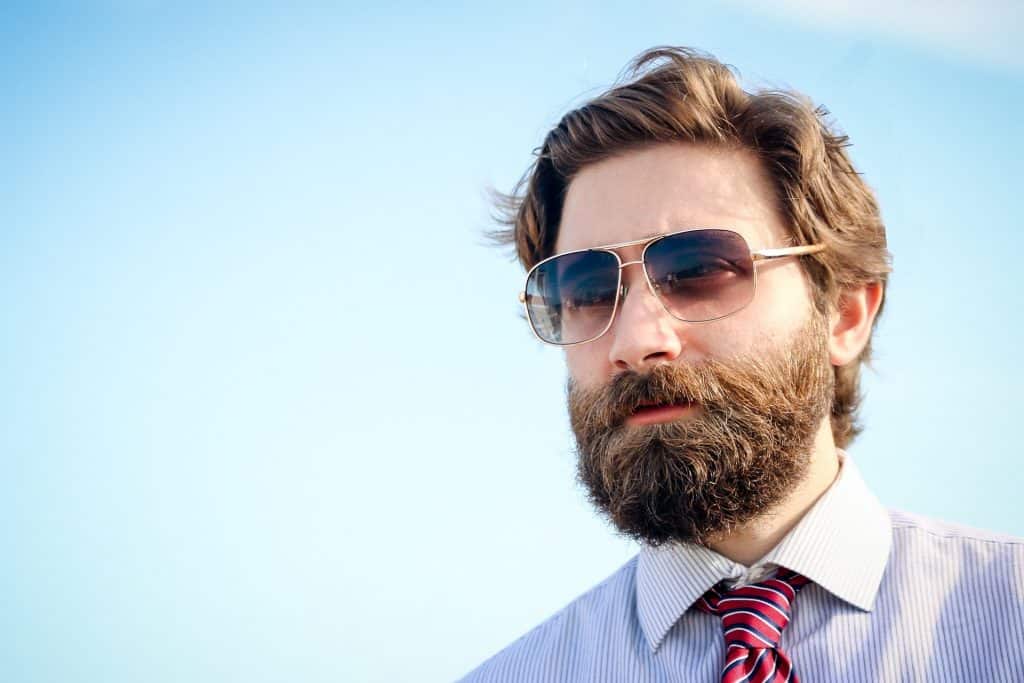 Once you have found the right beard comb for you, it is important to know how to use it effectively. For this short guide, we will start at the point after you have washed your beard as part of your morning routine and dried it so that it is only slightly damp. The beard has already been supplied with beard oil and is now ready to be combed:
Choose the right comb: As already mentioned, the width of the teeth on the beard comb affects how effectively you can use it. The longer the beard, the wider and larger the teeth of the beard comb should be. It also makes sense to choose a somewhat wider comb, in the beginning, to roughly comb through the beard and switch to a narrower one for finishing styling.
Comb from bottom to top: The first thing you want to do is undo possible snags in the beard and separate the hairs. This works best by starting at the chin and combing the beard with the teeth pointing upwards. If you come across a beard knot, try to resolve it slowly and without force. Start from a different angle if you get stuck on the first attempt.
Comb from top to bottom: Now it's time to style the beard. Comb the beard the way it should look for the rest of the day and also move the mustache hairs to the side so that they don't interfere with eating later. Don't hold the beard comb too tight and leave a little slack in your hands so that you don't pull at your beard hairs.
FAQ
Beard Comb or Beard Brush?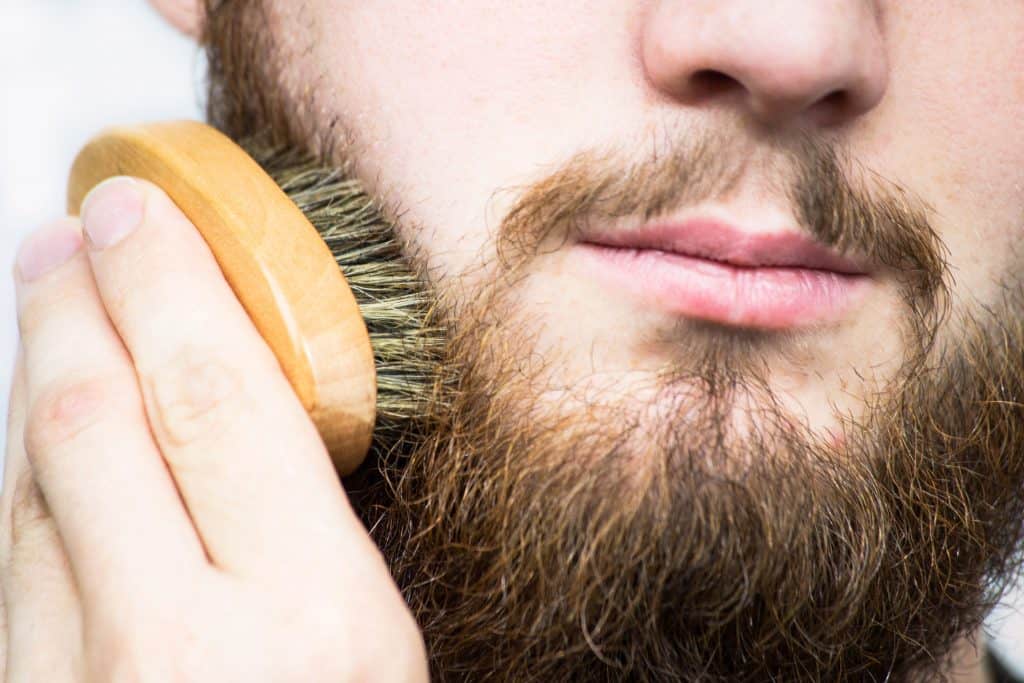 Both beard care products have their place and are not mutually exclusive. In general, a beard comb is better suited for a longer beard, as you have more control and can be more precise when styling your beard. The beard brush, on the other hand, does a particularly good job in the early stages of a beard and is more effective in bringing short beard hairs into place. If you trim your beard with beard scissors, a beard comb can make this procedure much easier. Also, a wet beard can be combed without any problems, unlike with a beard brush.
But also the beard brush has its merits. On the one hand, it distributes the oils inside the beard much better and on the other hand, it removes dirt from the beard more effectively. However, brushing is often harsher and more aggressive on the skin, so you should leave it on once a day. By contrast, there is no reason why you should not comb your beard several times a day. Furthermore, the beard comb is usually more portable and fits in every trouser or jacket pocket. In summary, our recommendation is to include the beard brush in your morning routine and then complete your beard styling with the beard comb.
Can beard combs also be used for scalp hair?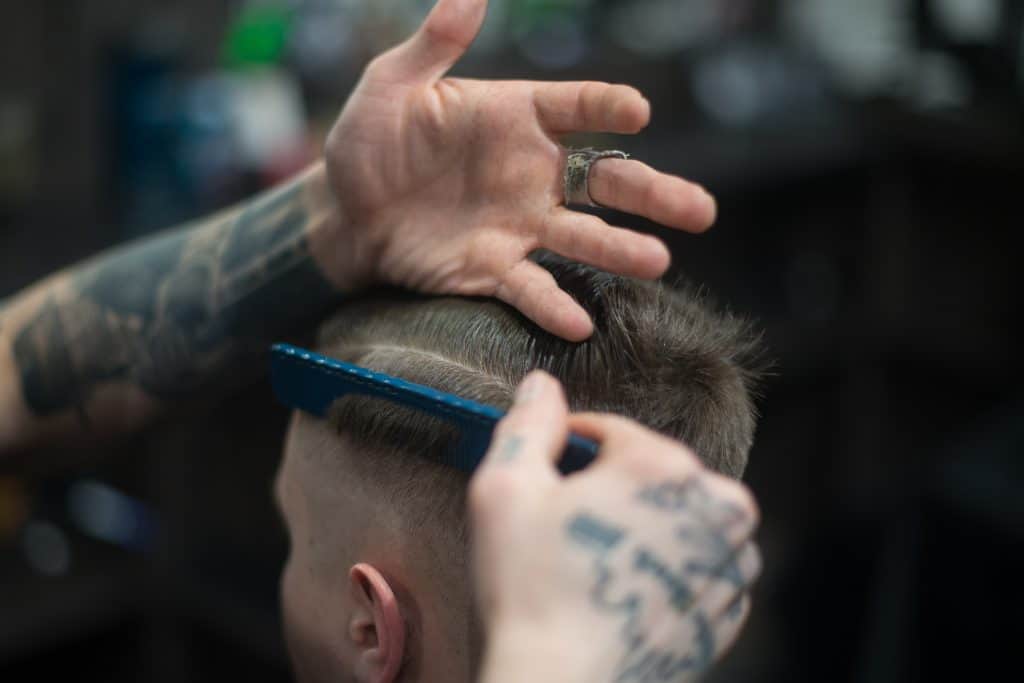 Generally speaking, there is nothing to be said against using a beard comb for the hair on the head too, as these are also just normal combs. Beard combs made of wood or horn are however an exception. These absorb beard care products such as beard oil and the body's own sebum and pass on some of it when combing again. For one thing, you probably don't want these oils on your head hair, as it quickly becomes greasy, and for another, it is preferable to get as much of these oils as possible back into the beard.
Should you use a straightening brush instead of a beard comb?
A straightening brush is a thermal brush that uses heat to straighten the beard. However, it is definitely not a replacement for a normal beard comb, as the heat stresses the hair and can cause long-term damage if used improperly. When it comes to special occasions, there is nothing wrong with using a straightening brush. Still, there are various other methods for straightening beard hair that are easier on them.
Is it possible to comb the beard too often?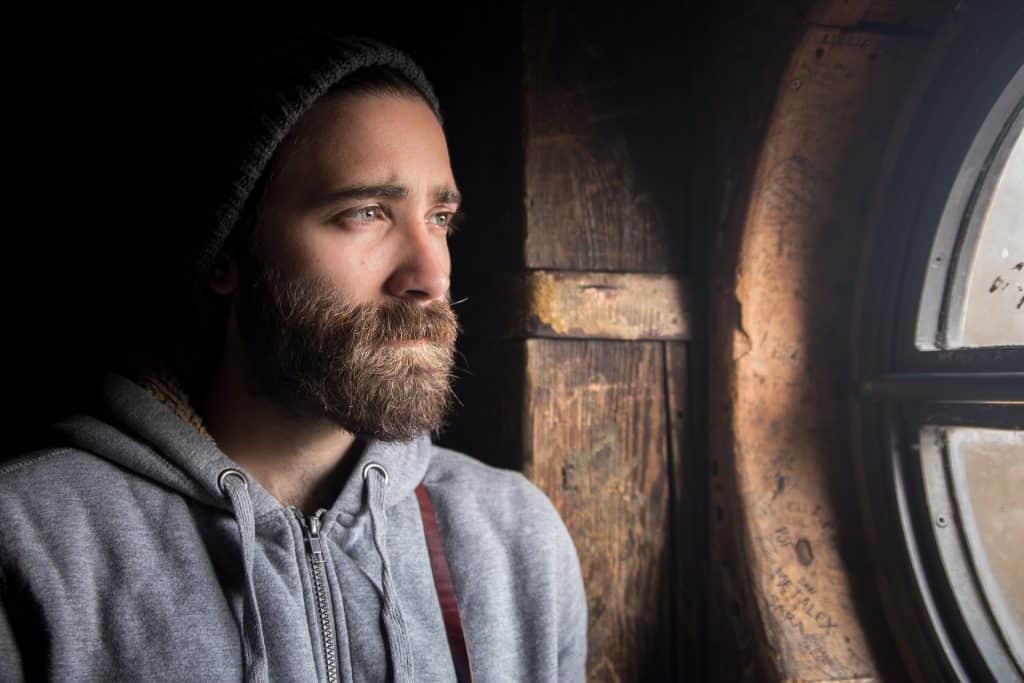 The one or the other will soon notice that combing the beard can feel very pleasant and that also during the day, one more and more often reaches for the comb. Unfortunately, regardless of the positive aspects, combing also puts stress on the hair follicles. If you comb your beard very often over a longer period and don't give the hair time to recover, this leads in the worst case to hair loss. To prevent this from happening, you should leave it at three or four times a day.
At what length should you use a beard comb?
You can start using the beard comb as soon as you can dictate the direction of the beard hairs with it. Usually, after two to three months the beard hairs are long enough for this. In the meantime, it is a good idea to use a beard brush in order to maintain a well-groomed beard.
Does the beard comb have to be cleaned?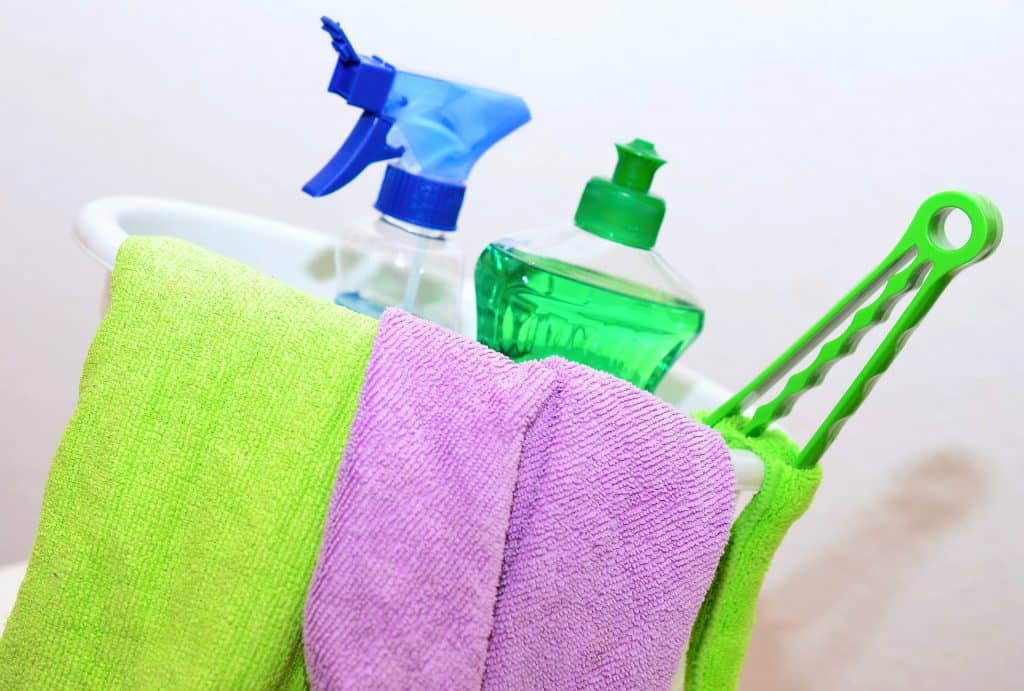 We have made the experience that many men do not care much about cleaning their beard comb and therefore only benefit from the advantages of combing to a limited extent. Of course, a beard comb can only remove dirt from your beard if it is clean itself. After a while, you will notice that dirt accumulates in the edges between the teeth, and it is hard to get out. Hold the beard comb under running hot water and use a toothbrush to remove the grime in the corners. If your beard comb is made of wood, use only a little water and dry the comb as soon as you are done.
Are Beard Combs also available at drugstores like CVS, Walgreens, Walmart or Rite Aid?
Beard combs are of course also available in drugstores and supermarkets, whereby these are mostly made of cheap plastic and still have a handsome price. But if you find a wooden beard comb, just try it out and make sure that the teeth are well-processed and have no sharp edges.
Does combing influence the growth of the beard?
Studies prove that combing massages the facial skin and thereby stimulates the hair roots. As a result, blood circulation is increased, which improves the nourishment of the beard hairs and promotes beard growth. But whether this will actually make a noticeable difference is something you have to find out for yourself. Nevertheless, a slightly thicker beard by regular combing is probably a nice side effect for every beardsman.